Marine Geology Data
LDEO Fossil Plankton Stratigraphies Database 1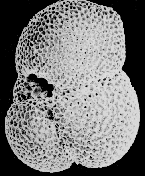 NGDC Data Set G01022
---
NOTE: PLEASE CITE ORIGINAL REFERENCE WHEN USING THESE DATA
---
SUMMARY
Data include foraminifer census counts and sea surface temperature estimates derived from marine sediment cores from the north Atlantic Ocean. Documentation for the faunal data is at the end of this README.faunal1 file. Documentation for the SST data is in file README.sst. The data set includes counts by Dr.'s Ruddiman, Kellogg, and Sancetta. The readme files contain complete documentation of the formats, counting methods, and SST transfer functions.
Data files with extension .ful are full foram count files, those with file extension .qck are quick foram count files (this README file) and the .sst files contain sea surface temperature estimates.
All cores are from the middle to high-latitude N Atlantic Ocean (40o-65oN). A few extend back only to 20,000 yrs, most span the last 100,000- 300,000 yrs, and 3 cover the last 1,600,000 yrs. Average count spacing is 5-20 cm, or time steps averaging 5,000-10,000 yrs. All are counts made between 1969-1990 of the planktonic foraminiferal population larger than 149 microns. The majority counts are larger than 300 individuals; some range as low as 100.
SEARCHABLE DATA INVENTORY
NGDC/WDC GMG, Boulder archives a wide variety of digital marine geology data collections, paper reports, microfilm, etc. containing sediment and hardrock data. Many of the digital files are available for direct download. Sample-by-sample inventory information for all data, regardless of format available from NGDC are fully searchable through the marine geology inventory (GEOLIN).