Geological Survey of Canada Atlantic Marine Geoscience Curation Facility
Web Page: http://www.nrcan.gc.ca/earth-sciences/
Contact:


Kate Jarrett

National Marine Geoscience Collection
Geological Survey of Canada, Atlantic (GSC A)
Bedford Institute of Oceanography
Dartmouth, Nova Scotia
Canada
B2Y 4A2

(902)426-6127






GSC A Sample Locations in the Index to Marine and Lacustrine Geological Samples
Introduction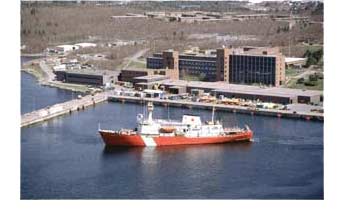 The Geological Survey of Canada Atlantic (GSC A) Curation facility is a publicly-funded repository under the Canadian federal department of Natural Resources Canada (
http://ess.nrcan.gc.ca/
) providing efficient and effective curation of geoscientific research samples and their associated data collected offshore east coast, and from the high Arctic of Canada. The facility is located at the Bedford Institute of Oceanography (BIO) in Dartmouth, Nova Scotia, Canada.
The purpose of the GSC Atlantic's curation facility is to maintain, facilitate, guarantee and ensure that all marine geoscientific sample collections and associated data obtained by or for the GSC A since 1972 are available to the scientific community at large in a timely, efficient and effective manner for those products generated by its multidisciplinary programs (
http://www.GDR.NRCan.gc.ca/
).
Facilities
The GSC Atlantic curates data and geomaterials within the confines of a secure 10,000 sq ft heated warehouse backing onto a suite of sample processing laboratories. Facilities include five rolled-racking compactor storage systems and 2100 sq ft of refrigerated space capable of storing more than 2500 marine sediment cores at 4 degrees centigrade. A core processing lab for routine sampling, description and core photography/spectroscopy, an x-radiograph facility and a multisensor track and processor support the day-to-day operations of the core facility.
Sample Collection
In its entirety the Canadian National Marine Geoscience Collection is unique. It is represented by more than 20,000 core samples, 200,000 processed sample residues and slides/thin sections, 500+ dredges and some 2 km of paper records, digital logs, associated cruise reports for the 1200 geoscientific programs conducted since the late 1960's. This collection represents a > 1.6 million sq.mi. area for offshore eastern Canada and the Canadian high Arctic, and a coastal coverage of some 11,129 nautical miles stretching from the Canada/USA Gulf of Maine border to the marine areas of the Arctic Archipelago, Arctic Ocean and Beaufort Sea. Digital data for many of these cruises and holdings have been incorporated into national databases such as
those at NGDC
.
GSC Atlantic strongly supports the use of these holdings and their supporting documentation, and many of the standards and sampling procedures developed at the centre have been incorporated by other institutions with similar holdings.
Sample collection continues at the same rate of acquisition in spite of changes to programs introduced in the late 1990's, because of leveraged field programs. Increase in accessing and utilizing these holdings continues, primarily as a result of increased offshore east coast drilling activity and also because access to sampling sites in the north are no longer viable due to continuing fiscal restraints. The geoscience community also affected by downsizing and limited resources stand to also benefit from accessioning the National Marine Geoscience Collection as the integrity of the samples have been maintained since collection.
The GSC Atlantic core laboratory is state-of-the-art, meeting defacto international standards, particularly in the ocean drilling community. The laboratory is heavily utilized by both Canadian and international collaborators and continues to provide GSC Atlantic with considerable leverage for paleoceanographic and other deep water research.
Go to the GSC A Sample Repository Web Page
Go to the Index to Marine & Lacustrine Geological Samples | Go to List of Participating Institutions